We Love Pet Fence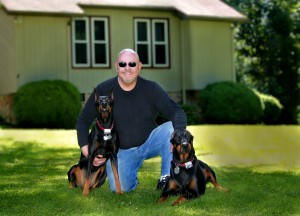 It is a delight for me to express how pleased we are with the work of Contain-A-Pet and the pet fence. I first met Tony over 10 years ago when we got our first doberman from the Doberman Rescue of the Triad.
We Have a nice yard almost 3 acres which sets in the middle of a 40 acre farm. We wanted our Doberman, (Buddy) to enjoy all this area and feel free to come and go at his leisure from the house. We also wanted him to stay out of the driveway for safety reasons.
Tony came out and installed the Contain-A-Pet Pet Fence System and showed us how to train Buddy to his new boundaries. He was there to answer any and all questions over the next few months and actually only 2 weeks after the installation our dog understood where he could go.
Thru the years Contain-A-Pet was there if a problem occurred with any part of the system. They were always there when I needed them and in a timely manner as well.
After 10 years our beloved Buddy passed away and we needed to fill the void in our lives. We decided to go back to the Doberman Rescue for another pet. Tony was there for me again to remind me how to mark the pet fence areas.
Not often do I have the opportunity to recommend a business, especially one that has served me so well over the past 12 years. Contain-A-Pet is responsible for placing a system on our property to protect our precious companions and they take this task seriously.
Sincerely,
Bill Ellis Greensboro, NC